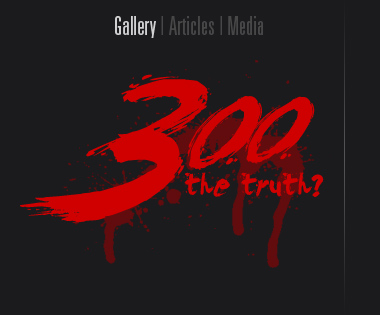 300themovie.info is an ongoing collaborative art
project featuring art by artists using the theme of 'ancient Persia'. Driven by
an admiration for arts, and united by a common concern about the barbaric and
demonic portrayal of Persians in Frank Miller's graphic novel and the movie 300,
we have come together to voice our objection in a uniquely artistic fashion. The
call for art has just been released and we are still receiving the artwork. If
you are an artist and would like to participate, please send your art to submit
at 300themovie dot info.
It was just a simple introduction on "300 the movie". Maybe you heard about that 300 the movie an American film produced by Warner Bros company. The story of 300 the movie is based one a comic stripe book by Frank Miller and is continuing the Anti-Parsiism project of those who cannot understand the value of Ancient Persia's history. 300 the movie is too insulting and mindfulness to be discussed and seems to be produced just to become a funny show such as the standup comedies of Rowan Atkinson as Mr. Bean. 300 the movie doesn't prove any positive feeling or sense in any conscience human whose intellectuality and morality doesn't allow him to forget the historical realities. I am working on a long time project to accomplish cultural sanctions on 300 the movie getting help by my other blogger friends such as pendar who established the Google bomb against 300 the movieWait and watch the result and remember that the strategy and ideology that caused to the disgraceful production of 300 the movie is not just anti-Iranist. It is anti humanist!